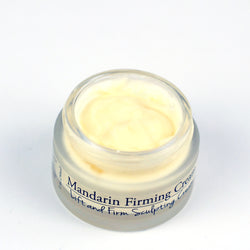 Max + Jane
Mandarin Firming Cream
This antioxidant-rich cream combines hazelnut oil, vegan hyaluronic acid, and silk peptides to help tighten and tone the neck and jawline.    

HOW TO USE: After cleansing and toning, gently massage a dime-size amount of Mandarin Firming Cream into neck and jawline using small upward strokes.

INGREDIENTS: Distilled water, sunflower oil, sodium alginate, caprylic acid, xanthan gum, vegetable glycerine, sesame oil, carrot oil, hazelnut oil, jojoba oil, cetyl alcohol, silk peptides, hyaluronic acid, linalool, vitamin e, essential oils of: tangerine, lemon, blood orange, mandarin.