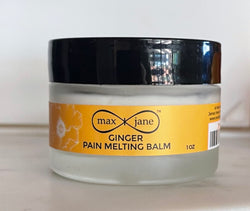 Max + Jane
Ginger Pain Melting Balm
Our beloved CBD pain balm is now available online!
This pain balm uses CBD to provide up to 4 hours of relief on tight or sore muscles. 

HOW TO USE: Massage into areas that are sore, tight, or dry for 4 hours of relief.

INGREDIENTS: Water, aloe*, castor oil*, cocoa butter, sunflower seed oil*, glycerin, cetyl alcohol, stearyl alcohol, hempseed oil*, shea butter, evening primrose oil*, avocado oil, rosehip seed oil*, jojoba oil*, vitamin e, vitamin c, CBD, algae extract, green tea, and essential oils of: sweet ginger, black pepper, and lemon, turmeric*, gotu kola*, horsetail, glycerin, sodium and xanthan gum (*organic).