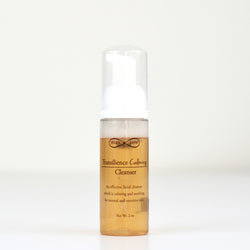 Max + Jane
Transilience Calming Cleanser
This award-winning foaming cleanser gently removes oil and makeup to reveal clean, balanced skin.

HOW TO USE: Massage one to two pumps of Transilience Calming Cleanser into wet face for 60 seconds. Rinse with tepid water and pat dry. Follow immediately with Gentle Everyday Toner and Max + Jane moisturizer of your choice.
INGREDIENTS: Distilled water, aloe vera, coco glucoside (from coconut oil), celtic salt, glycerine, and essential oils of: mandarin, lavender, rosemary, ylang ylang, tangerine, linalool, and limonene.