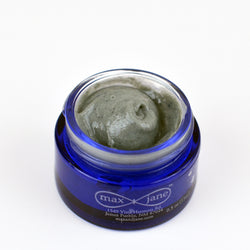 Max + Jane
Tourmaline Exfoliant
This luxurious exfoliant is supercharged with Brazilian tourmaline to gently remove dead skin cells and reveal a bright, clear complexion.

HOW TO USE: After cleansing, apply a thin layer of Tourmaline Exfoliant to damp face, avoiding eye area. Gently massage in small circular motions for 60 seconds and then allow to dry on skin for 5-10 minutes. Rinse with warm water, pat dry, and follow with Gentle Everyday Toner and Max + Jane moisturizer of your choice.

INGREDIENTS: Jojoba oil, distilled water, coco glucoside (from coconut oil), lecithin, non-alcohol witch hazel, beeswax, vegetable glycerine, xanthan gum, Brazilian tourmaline powder, rosemary.