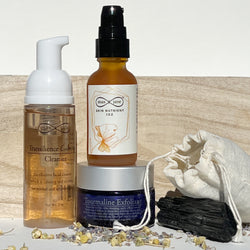 Max + Jane
The Nighttime Renewal Gift
We've combined the most relaxing Max+Jane products in a beautiful wooden box, ready to be gifted to your favorite person this holiday season. The gift includes a chunk of black tourmaline to be displayed on your nightstand.
The kit includes:
TRANSILIENCE CALMING CLEANSER: This award-winning foaming cleanser gently removes oil and makeup to reveal clean, balanced skin. INGREDIENTS: Distilled water, aloe vera, coco glucoside (from coconut oil), celtic salt, glycerine, and essential oils of: mandarin, lavender, rosemary, ylang ylang, tangerine, linalool, and limonene.
TOURMALINE EXFOLIANT: This luxurious exfoliant is supercharged with Brazilian tourmaline to gently remove dead skin cells and reveal a bright, clear complexion. INGREDIENTS: Jojoba oil, distilled water, coco glucoside (from coconut oil), lecithin, non-alcohol witch hazel, beeswax, vegetable glycerine, xanthan gum, Brazilian tourmaline powder, rosemary.
SKIN NUTRIENT (1 oz): This nourishing face oil is packed with vitamins, antioxidants, and essential fatty acids to protect your skin from harmful environmental triggers and reduce inflammation. INGREDIENTS: Calendula, chamomile, fennel, frankincense, ginkgo bilbao leaf, ginseng root, hibiscus, jasmine sambac, lavender, licorice root, milk thistle, rosemary, sandalwood, rose hydrosol, plantain, shave grass, gotu kola, malva flowers, green tea, life everlasting flower, vetiver, sea buckthorn oil, sunflower oil, rosehip seed oil, raspberry seed oil, pumpkin seed oil, pomegranate seed oil, jojoba oil, hemp seed oil, avocado oil, carrot seed oil, black cumin seed oil, acai berry oil.
Sleep Sachet: Filled with organic lavender and chamomile from our own farm in Jemez, New Mexico. Place this sachet under your pillow to drift off to sweet dreams.